In this post, I am going to tell you about the best rooftop restaurants in Agra.
Enjoying a delicious meal while witnessing the beauty of Taj Mahal is what everybody wants.
Either you are having a candlelight dinner with your bae or celebrating any specific occasion with your friend and family, you can enjoy the moment with Agra rooftop restaurants.
You will find the 20+ list of rooftop cafe where you can enjoy the best dining experience of a lifetime. So without further ado lets dive in:
Agra Rooftop Restaurants:
Here are the top rooftop restaurants in Agra:
Frontier Multi Cuisine Roof Top Restaurant:
Frontier Multi Cuisine Restaurant is located in Montola Agra. It offers a variety of cuisines such as Continental, North Indian, and Italian. Having dinner with your friends and family is delicious.

Opening Hours: 6:30pm – 11:30pm
Address: G-2, Jasoria Enclave, Fatehabad Road, Agra, Mantola, Agra

Glassy:

Located in the outskirts of Taj Mahal, the Glassy restaurant delicious cuisines such as Café, Chinese, Indian and Continental. It provides a rooftop facility on a very exotic location.

Opening Hours: 6:00 PM – 12:30 AM
Address: Howard Plaza-The Fern, Fatehabad Road, Agra
Tea'se Me – Rooftop Tea Boutique:
Tea'se Me is a rooftop restaurant located in Fatehabad road Agra. With great ambiance and food. the Tease me offers various cuisines such as Chinese, Italian, Continental, and North Indian. It also provides the home delivery option.

Opening Hours: 12:00 PM – 11:30 PM
Address: Near Purani Mandi Crossing, Fatehabad Road, Tajganj, Agra

Taj Terrace:

Taj Terrace is located at Eastern Gate of Taj Mahal. From North Indian to Continental and Chinese and Asian you can find everything here. The place has got perfect ambiance with super delicious authentic food. If you are looking at some quality time with your friends and family for some quality, this place is a must visit.

Address: Hotel Taj resorts, Eastern gate of Tajmahal, near Shilpgram, Tajganj, Agra, Uttar Pradesh 282001
Sky Deck:

The Skydeck at the Gateway Hotel is a perfect venue for breakfast, lunch, and dinner in Agra. The Skydeck is on the rooftop (6th floor) of the Gateway Hotel. The Skydeck offers you and unobstructed views of the Taj Mahal.
Cuisines: North Indian, Chinese, Continental
Address: The Gateway Hotel – Fatehabad Road, Tajganj, Agra, Uttar Pradesh 282001
Phone: 0562 660 2000
Chapter 1 Café:

Chapter 1 is a great place with nice ambiance and food. A DJ is there to make your mood with good music. Their rooftop area is open and spacious. It is curated so well with the vibrant colors which create a luxurious place and will give you an ultimate experience on the rooftop.
Cuisine: Indian, Continental, Chinese, Mexican and Lebanese.
Serves Alcohol: Yes
Address: 1374 K/1375 K, 2nd floor, Dinesh Nagar, Fatehabad Road, Tajganj, Agra
Phone Numbers: 0562 6900006, +91 9634340009
Mumtaz Café Gallery:

It is one of the closest rooftop restaurants to Taj Mahal and will give you a closer view of the Taj while on the rooftop. Taj Mahal is only 100 meters away from here.
Cuisine: Indian, Chinese, Continental, Italian.
Address: Near Police Station, 3rd-floor Hotel Shahjahan TajMahal South Gate, Tajganj, Agra, Uttar Pradesh 282001
Hours: 12 AM
Phone: 075208 1171
Hotel Saniya Palace: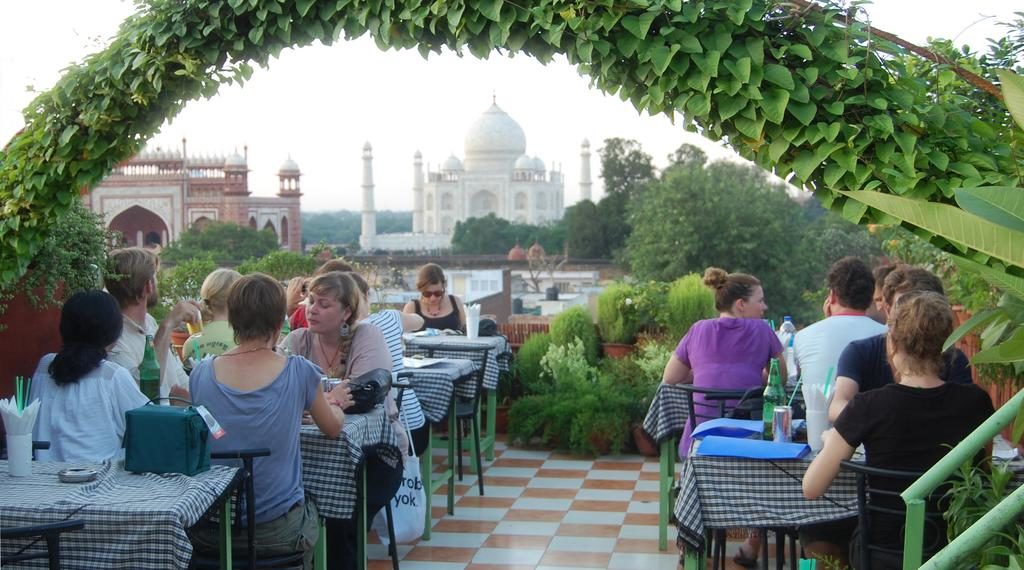 If you ask a restaurant with great Taj view, Hotel Saniya Palace is the answer. It is just 300 meters away from the Taj Mahal. It would be one of the closest rooftop restaurants to Taj Mahal.

You can have your breakfast, lunch, and dinner by witnessing the beauty of Taj Mahal. The restaurant offers its services from dawn to dusk.

Cuisines: North Indian, Fast Food, Continental, Chinese
Address: Saniya Palace Inn, Chowk Kagziyan, South Gate, Tajganj, Agra
Phone Numbers: 05623270199, +91 9259576407